Testimonials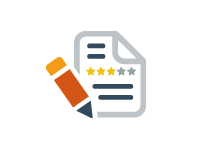 Have you visited our agency? Have you bought a house through us?
Here are our clients' comments
Keep writing, express what you think.
Create your own review
16-02-2016 -
Lorenza Di Antonio
Se dovete comprare o vendere casa consiglio l'Agenzia A&G esperienza professionalità gentilezza e cortesia sono solo alcune delle qualità di Gildo e del resto del personale dell'agenzia. Grazie a tutti Lory
15-02-2016 -
Novella Ascolani
Pochi giorni fa l'Agenzia A&G, nella persona di Gildo Ercoli, mi ha venduto una abitazione nel maceratese. Sono rimasta molto soddisfatta per la professionalità,competenza, correttezza e disponibilità dimostratemi in ogni situazione, fino alla conclusione della vendita... e soprattutto una grande pazienza! Un grazie sentito.
21-01-2016 -
Alberto e Cristiana
Gildo si è dimostrato di essere molto competente, gentile e disponibile in più occasioni. Ci ha seguito fino alla conclusione dell'affare consigliandoci molto e molto bene. E' una persona che possiamo veramente raccomandare sempre problemi.
18-12-2015 -
Rudi Pelloni
Cercavamo una casa nei pressi di Smerillo e ci siamo casualmente imbattuti nell'Agenzia AeG Real Estate. Abbiamo visitato molte proprietà',sempre assistiti stupendamente dalla simpaticissima Alessia ,che in maniera molto professionale ha sempre dato risposte ai nostri quesiti, consigliandoci sempre per il meglio, fino a che un giorno abbiamo trovato la nostra sospirata casetta nel bosco e assieme al Boss Gildo ,per cui nutriamo molta stima, in pochi giorni abbiamo realizzato il nostro piccolo sogno. Con queste poche righe quindi volevamo esprimere alla A&G immobiliare un sentito ringraziamento per la loro professionalità e cortesia e consigliare a chiunque voglia comprare casa di rivolgersi a loro. RUDI, NATALIA, EDOARDO E LA PICCOLA ALESSIA.
15-09-2015 -
FABIO ARMILLEI
Mi sono rivolto all'agenzia A&G Real Estate, in quanto mi è stata consigliata, per la vendita di un immobile a Fermo, che è avvenuta in dicembre 2014, con mia estrema soddisfazione e penso anche da parte degli acquirenti. Sono convinto che nella vita, nulla accade per caso, tutti nascono con delle predisposizioni diverse ma spendibili nel vita lavorativa, ma quello che fa la differenza è la capacità di trasformare in opportunità di business quello che gli altri non vedono, questo fà delle persone, delle persone speciali. Tu Alessia e Gildo siete delle persone speciali e sono sicuro che con gli skill che avete anche in futuro vi comporterete con i clienti in modo speciale svolgendo il lavoro che vi è stato assegnato in modo perfetto. Complimenti di nuovo e in bocca al lupo per il futuro, che possa essere all'insegna di soddisfazioni professionali e personali.
We bought an apartment through AEG Real Estate, thanks Gildo and Alessia for good service and continuous support during deed process. All was prefect, no complains. Thanks again.
30-06-2015 -
Graham White
Having tried to sell a property with several other estate agents in Le Marche, A&G; Agenzia Immobiliare were the ones that found us a buyer. The sale was complicated by us requiring Power of Attorney, but this was made much easier with the efficient help of Gildo and Alessia They kept us up to date by e-mail, (our preference), and being able to converse in English was invaluable. Thanks to them and the Italian buyer, the sale went through very quickly and with minimum stress! Graham & Irene White
22-05-2015 -
Martin Heidenreich
AeG kann ich auf jeden Fall weiterempfehlen. Sowohl beim Verkauf meines alten als auch beim Kauf meines neuen Hauses stand mir das Team als echte Profis zur Seite. Auswahl, Service und auch Tipps&Tricks....alles; bestens :) Sehr positiv, auch nach dem Kauf ist man herzlich willkommen und mir wurde dann noch bei dem einen oder andere Problem geholfen. Super, danke, macht weiter so!
We bought a house through AEG Real Estate, we had fantastic service and help, and they are still helping ussort things out well after the sale. We would reccommend them to all who are looking for their dream home in Le Marche!!!!
11-02-2015 -
Arcangeli Mailloux Craig
I purchased my home from AeG in 2005. Contrary to the horror stories I have heard from other Americans purchasing homes in Italy, my experiences, both during the purchase and since then, have been nothing less than pleasurable. Gildo and Alessia resolve any and all situations with alacrity. Their whole team deserves kudos for their high standards of professionalism and integrity. Craig Arcangeli Mailloux Westminster, MA USA
We bought our house in beautiful Smerillo in 2003. The purchase was smooth and uncomplicated and Gildo and Alessia were wonderfully helpful in many ways. From first viewing the house to completing the purchse took less than 4 months. Since then we have had continued help with everything from paying local taxes to getting rid of wasps in the roof. We could not manage without AEG. Grazie. Bill Carr
05-11-2014 -
Federico Domenico
Cercavamo una casa ad Amandola e ci siamo rivolti all'Agenzia AeG Real Estate. Abbiamo trovato il meglio; siamo stati assistiti nella ricerca e nelle trattative. Abbiamo potuto constatare la professionalità dei suoi agenti, l'impegno, la competenza, la precisione, la correttezza e l'onestà. Non pensavamo di trovare così tanto! Siamo rimasti completamente soddisfatti. Vorremmo suggerire a chi cerca casa nella regione Marche di non esitare a contattare tale Agenzia. E' quanto di meglio si possa trovare. Domenico FEDERICO