Testimonials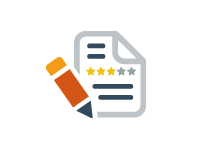 Have you visited our agency? Have you bought a house through us?
Here are our clients' comments
Keep writing, express what you think.
Create your own review
Molto soddisfatto
29-05-2019 -
Giorgio cognigni
Massima serietà e cortesia,grande professionalità e competenza ....mi sono trovato molto bene con voi,e grazie per averci seguito in tutte le fasi della compravendita...Gildo ci ha aiutato e consigliato... Raccomando a tutti coloro che stanno cercando un immobile di rivolgersi a questa agenzia ! Super ok
RECENSIONE
28-05-2019 -
Tamara Peroni
Professionista serio e competente.
Casa di Fermo
15-03-2019 -
Daniela e Stefano
Gildo grazie per aver trovato la persona giusta cui affidare la nostra casa e per aver controbuito, con pazienza, fermezza, grande professionalità e quel tanto di buon umore che non guasta ,a rendere tutto naturale e semplice anche quando non lo era, e a far si che, soprattutto io, potessi lasciarla senza rimpianti. Alla prossima!!!
05-02-2018 -
Tim and Jessica Timmer
Thank you very much for the professional, sympathetic and efficient way you have helped us to buy the house of our dreams! Alessia has been an immense help in translating and explaining all along the process from the first viewing of the property to the signing of the final deed. Even after the sale she continued her support and service in arranging the tranfer of the electricty into our name and assiting with the payment of local taxes.We wholeheartedly recommend A & G Immobiliare to anyone looking to buy a house in this beautiful region!
02-02-2018 -
Piero Feliciotti
Professionalità, chiarezza e assistenza in tutte le fasi della compravendita. Gildo Ercoli ha una gran pazienza e fantasia nel trovare soluzioni. Un buon servizio.
24-01-2018 -
Valentina Scutari
Complimenti davvero a Gildo Ercoli, un agente immobiliare d.o.c. disponibile e professionale che è riuscito a vendere il mio immobile in pochissimo tempo. Consiglio a tutte quelle persone che hanno bisogno di vendere o acquistare un immobile, 10 e lode!Valentina Scutari
30-12-2017 -
Nicoletta e Claudio
In un momento di difficoltà come lo è questo post sisma la competenza e professionalità di Gildo Ercoli è una benedizione. Ha trattato ogni singola problematica con pazienza ed umanità fini al termine della trattativa . Se dovete fare una compravendita affidatevi senza alcun dubbio a lui.
Agenzia contraddistinta dalla professionalità, dalla cordialità e dalla competenza dei titolari e di tutto lo staff. Seguono e offrono assistenza al cliente in ogni ambito. Consigliatissima!
Vorrei consigliare a tutti l'agenzia A&G Immobiliare di Amandola che è riuscita a vendere il mio immobile in poco tempo e con grande professionalità mi ha risolto le varie problematiche tecniche. Mi ha dato tutta l'assistenza necessaria per superare un passo della mia vita molto importante. Un ringraziamento particolare a Gildo Ercoli
15-03-2016 -
Eskild Petersen
I recently bought a house in Marche with a loan in an Italian bank. The negotiation with the seller was not easy, but I was guided through the process by Alessia and Gildo and came out after the purchase completely satisfied with the process and the final deal. It is not easy also afterwards to hook up with local supply systems, banks etc. but I was always helped with swift and good guidance. I can can only recommend A&G Immobilizer to anyone who are looking for a property in Italy.
16-02-2016 -
Lorenza Di Antonio
Se dovete comprare o vendere casa consiglio l'Agenzia A&G esperienza professionalità gentilezza e cortesia sono solo alcune delle qualità di Gildo e del resto del personale dell'agenzia. Grazie a tutti Lory
15-02-2016 -
Novella Ascolani
Pochi giorni fa l'Agenzia A&G, nella persona di Gildo Ercoli, mi ha venduto una abitazione nel maceratese. Sono rimasta molto soddisfatta per la professionalità,competenza, correttezza e disponibilità dimostratemi in ogni situazione, fino alla conclusione della vendita... e soprattutto una grande pazienza! Un grazie sentito.