Testimonials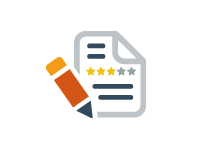 Have you visited our agency? Have you bought a house through us?
Here are our clients' comments
Keep writing, express what you think.
Create your own review
L'unica agenzia seria
21-06-2023 -
Antonina Pescetelli
Agenzia immobiliare seria e competente. La professionalità di Gildo è ineguagliabile, sempre disponibile ad offrire un servizio completo ai suoi clienti. Consigliamo a tutti di rivolgersi a questa agenzia perché né rimarranno soddisfatti come noi.
Professionalità e cortesia
stupenda esperienza, aver venduto al giusto prezzo e ad una coppia di acquirenti realmente innamorati dell'immobile e del contesto è stata una sorpresa inaspettata. Non aver trovato difficoltà di nessun tipo per una vendita di per sè complicata ITALY SWEDEN è stata la ciliegina sulla torta. Complimenti
01-03-2021 -
Johanna Harbst
We had the privilege to buy us a summer house in Italy. As we are from Sweden we had very little experience of the legal procedures in Italy. Alessia has been of great help and helped us long beyond our expectations. She's been short on her replies and have been very patient with all our requests. We highly recommend this agency to everyone who requires high end service.
Alessia and Gildo took the stress out of buying our house, particularly in these very strange times. Alessia took the time to guide us through the purchase process and the associated legalities and was always happy to answer my endless question, nothing was too much trouble. I would thoroughly recommend them. Thank you
Mrs
14-01-2021 -
Bryony Simpson
Fantastic service throughout. Excellent marketing, customer care and personal touches. Sale went smoothly and Alessia has been brilliant, communicating in English, explaining at each step of the way and helping me out with other matters which others have failed to solve previously. I thoroughly recommend this agent and would definitely use them again. Thanks
dr
13-03-2020 -
Konrad Klimczak
Looking for a house in Marche, Italy we have visited several real estate agencies. No other has reached the professionality level of A&G Immobiliare. 1. Personalized choices; 2. Careful follow-up; 3. Administrative support – also with regional authorities; 4. Personal support – local communication & advices; 5. Event tracing – always online & available – email, Skype, WhatsApp; 6. Dedicated, nice owners. Two thumbs up!
Mr
I happily join those who are super satisfied with the excellent job Gildo and Alessia have done to write and share my review.. We have been pampered by their professional attention from the onset, and the team of AeG lived up to the highest standards. Besides having handled every aspect of the business transaction superbly and on time, they went over and beyond to help us set up our accounts with the local utility companies, tax authorities,etc. Communication with them has been efficient , and we never felt left in the dark. They kept us updated on the developments and changes . Thank you guys for the great job. I can whole heartedly recommend AeG Realestate to anyone interested in buying or renting in Le Marche, Italy.
Molto soddisfatto
29-05-2019 -
Giorgio cognigni
Massima serietà e cortesia,grande professionalità e competenza ....mi sono trovato molto bene con voi,e grazie per averci seguito in tutte le fasi della compravendita...Gildo ci ha aiutato e consigliato... Raccomando a tutti coloro che stanno cercando un immobile di rivolgersi a questa agenzia ! Super ok
RECENSIONE
28-05-2019 -
Tamara Peroni
Professionista serio e competente.
Casa di Fermo
15-03-2019 -
Daniela e Stefano
Gildo grazie per aver trovato la persona giusta cui affidare la nostra casa e per aver controbuito, con pazienza, fermezza, grande professionalità e quel tanto di buon umore che non guasta ,a rendere tutto naturale e semplice anche quando non lo era, e a far si che, soprattutto io, potessi lasciarla senza rimpianti. Alla prossima!!!
05-02-2018 -
Tim and Jessica Timmer
Thank you very much for the professional, sympathetic and efficient way you have helped us to buy the house of our dreams! Alessia has been an immense help in translating and explaining all along the process from the first viewing of the property to the signing of the final deed. Even after the sale she continued her support and service in arranging the tranfer of the electricty into our name and assiting with the payment of local taxes.We wholeheartedly recommend A & G Immobiliare to anyone looking to buy a house in this beautiful region!
02-02-2018 -
Piero Feliciotti
Professionalità, chiarezza e assistenza in tutte le fasi della compravendita. Gildo Ercoli ha una gran pazienza e fantasia nel trovare soluzioni. Un buon servizio.