Dicono di noi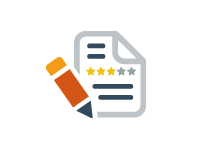 Siete venuti nella nostra Agenzia? Avete trovato casa con noi?
Di seguito i commenti di chi ha apprezzato il nostro lavoro.
La vostra opinione per noi è molto importante, dedicateci pochi minuti del vostro tempo per inviarci il vostro feedback.
Crea la tua recensione
We bought an apartment through AEG Real Estate, thanks Gildo and Alessia for good service and continuous support during deed process. All was prefect, no complains. Thanks again.
30-06-2015 -
Graham White
Having tried to sell a property with several other estate agents in Le Marche, A&G; Agenzia Immobiliare were the ones that found us a buyer. The sale was complicated by us requiring Power of Attorney, but this was made much easier with the efficient help of Gildo and Alessia They kept us up to date by e-mail, (our preference), and being able to converse in English was invaluable. Thanks to them and the Italian buyer, the sale went through very quickly and with minimum stress! Graham & Irene White
22-05-2015 -
Martin Heidenreich
AeG kann ich auf jeden Fall weiterempfehlen. Sowohl beim Verkauf meines alten als auch beim Kauf meines neuen Hauses stand mir das Team als echte Profis zur Seite. Auswahl, Service und auch Tipps&Tricks....alles; bestens :) Sehr positiv, auch nach dem Kauf ist man herzlich willkommen und mir wurde dann noch bei dem einen oder andere Problem geholfen. Super, danke, macht weiter so!
We bought a house through AEG Real Estate, we had fantastic service and help, and they are still helping ussort things out well after the sale. We would reccommend them to all who are looking for their dream home in Le Marche!!!!
11-02-2015 -
Arcangeli Mailloux Craig
I purchased my home from AeG in 2005. Contrary to the horror stories I have heard from other Americans purchasing homes in Italy, my experiences, both during the purchase and since then, have been nothing less than pleasurable. Gildo and Alessia resolve any and all situations with alacrity. Their whole team deserves kudos for their high standards of professionalism and integrity. Craig Arcangeli Mailloux Westminster, MA USA
We bought our house in beautiful Smerillo in 2003. The purchase was smooth and uncomplicated and Gildo and Alessia were wonderfully helpful in many ways. From first viewing the house to completing the purchse took less than 4 months. Since then we have had continued help with everything from paying local taxes to getting rid of wasps in the roof. We could not manage without AEG. Grazie. Bill Carr
05-11-2014 -
Federico Domenico
Cercavamo una casa ad Amandola e ci siamo rivolti all'Agenzia AeG Real Estate. Abbiamo trovato il meglio; siamo stati assistiti nella ricerca e nelle trattative. Abbiamo potuto constatare la professionalità dei suoi agenti, l'impegno, la competenza, la precisione, la correttezza e l'onestà. Non pensavamo di trovare così tanto! Siamo rimasti completamente soddisfatti. Vorremmo suggerire a chi cerca casa nella regione Marche di non esitare a contattare tale Agenzia. E' quanto di meglio si possa trovare. Domenico FEDERICO
Following a number of viewings via other agents in the area we discovered A&G; in mid 2004 and first viewed our property with Gildo and Alessia in April 2005. The completion of the purchase from the vendors proved to be quite a challenge - and took over 18 months - but Gildo, Alessia and everyone at A&G; ensured all was kept moving forward, providing the necessary input and advice as required to complete an Italian property purchase. Following that, the introductions made by Gildo to other people and organisations required to complete the restoration of the house have proven to be absolutely first class & during the restoration Alessia has been invaluable with her assistance at meetings to progress and complete the works. The whole A&G; experience has been most enjoyable and I have no hestitation in recommending A&G; to anyone considering purchasing a property in Le Marche, their service being totally professional, reliable and trustworthy.
15-08-2014 -
George Kyprios
We recently completed the purchase of our house in Le Marche through A&G; Immobiliare. From the very beginning, Gildo and Alessia fully understood our requirements and showed us several very attractive properties. Although the house we finally selected was involved in a difficult legal situation with the vendors, Gildo provided guidance and advice throughout the process and also helped with introductions to other professionals for the restructuring work. The level of honesty, competence and their assistance, even post-purchase, has been excellent; we would thoroughly recommend the friendly and professional service of A&G; to anyone considering buying a house in this beautiful region!